[accordions id='9337′]
Understanding Catalog Management
Welcome to your Catalog Management page, which gives you quick access to all your products. While this page might seem similar to the Manage Inventory page, this page is different because it lets you oversee product properties and characteristics versus inventory functions.
The Catalog Management page has various functions, including but not limited to:
The Catalog Management page acts as a launching point for a variety of different functions. This article will explain the basics, but you can see more in-depth explanations by clicking on hyperlinked words or simply exploring the page yourself.
To access your product catalog, select Catalog > Manage Catalog.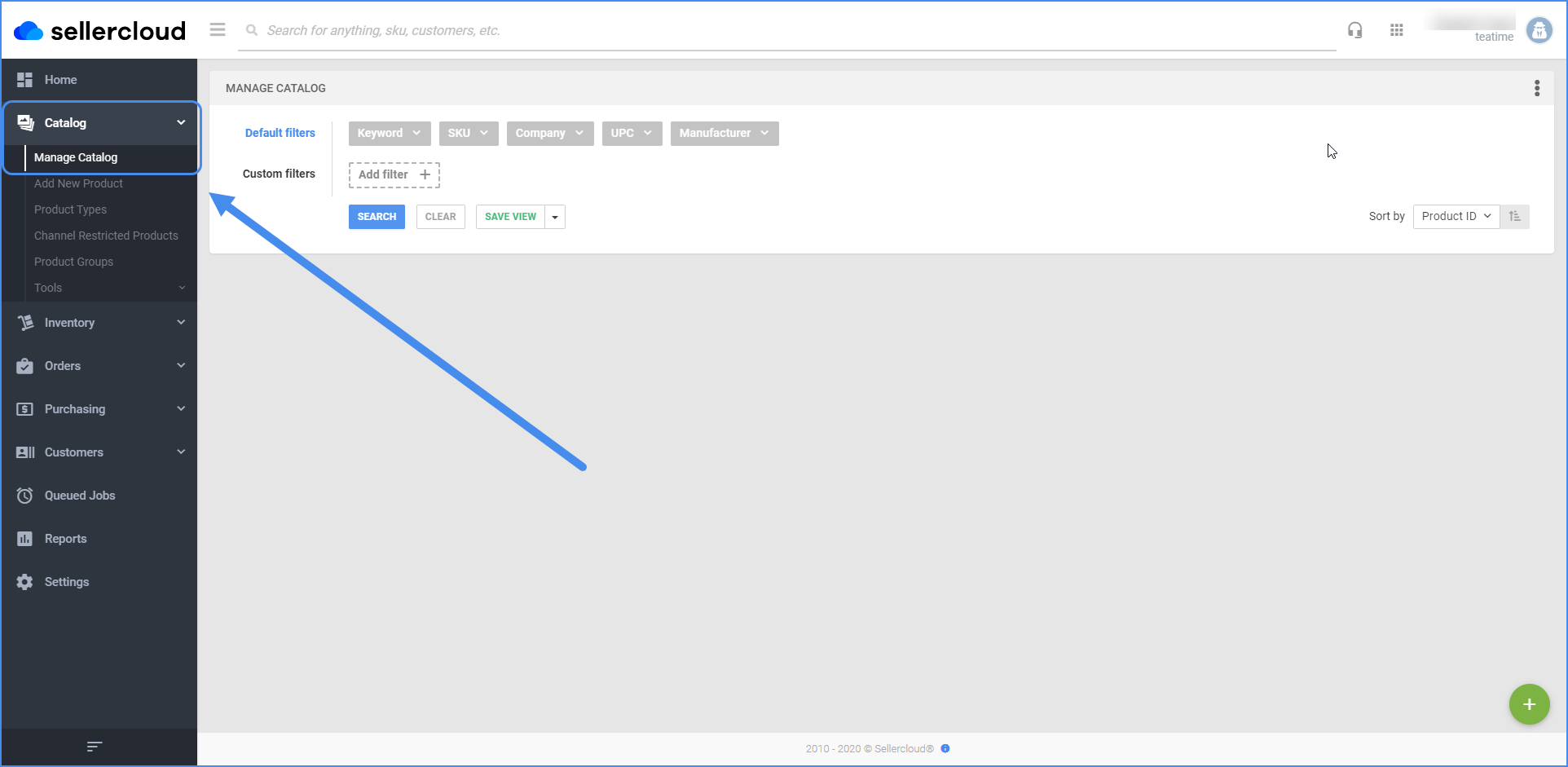 ---
Searching for products
There are default filters already in place that provide you easy access to the most common search criteria. However, Sellercloud lets you fully customize your product searches. You can add custom filters and columns, and you can choose how your information is sorted from top to bottom.
Default filters
When you navigate to the Manage Catalog page, you will see the default filters. These filters cannot be removed or changed. To use these filters, simply click a filter, and begin typing for a drop down search to begin.

Customizing filters
Customizing filters helps you narrow your search. You have a wide-range of custom filters to choose from.
Go to Catalog > Manage Catalog > Custom Filters > Add Filter > Choose filter from the drop down menu.
Click new filter and input data.
Click Search.

Optional: You can click Save View to save this search criteria for future use. A popup tab will prompt you to name this view, and then click Save.
To delete a custom filter, simply click the trash icon next to the filter.

Customizing columns
Customizing columns helps filter your view when searching. When searching, the default columns already in place will be SKU, Product Name, Average Cost, UPC, Channels, Company, Qty Avail., and Site Price. These are all Level 1 columns, which means that you will be able to quickly view this information.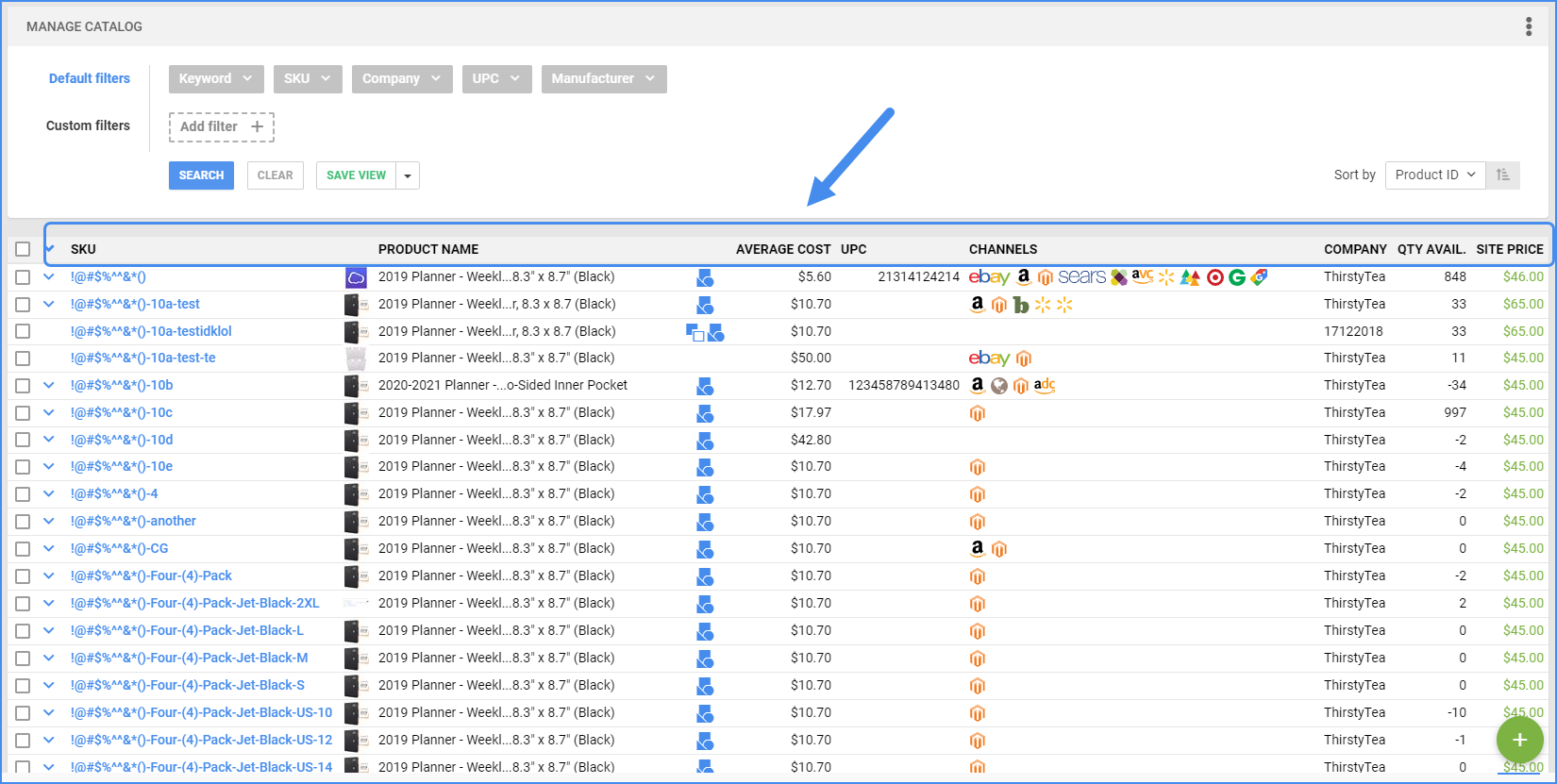 There are also Level 2 columns, which you can view by clicking the small blue arrow. This provides you with more info without having to open the product details. The default Level 2 columns are Child Product ID, Per Kit Qty, and Product Name.

Customizing your columns lets you choose what information you want quick access to when searching.
Go to Catalog > Manage Catalog > Click the vertical ellipses > Click Customize Columns.
Click Add Column > Select which columns you want to add from the drop down menu.
Optional: You can reorganize the order in which columns appear by dragging the column.
Optional: You can delete columns by clicking the trash icon.
Customizing column sorting
Customizing how information is sorted from top to bottom can help you find what you're looking for quicker. The default sorting method is Product ID.
Go to Catalog > Manage Catalog > Sort By > Select how you want your information sorted.
---
Using the action icon
The action icon provides you with the tools to do a variety of different actions. You can
add new products
,
clone products
,
create shadows
, perform actions in bulk, etc. The action icon appears in the lower right hand side of your Manage Catalog page; it is a small button that turns dark blue when items are selected.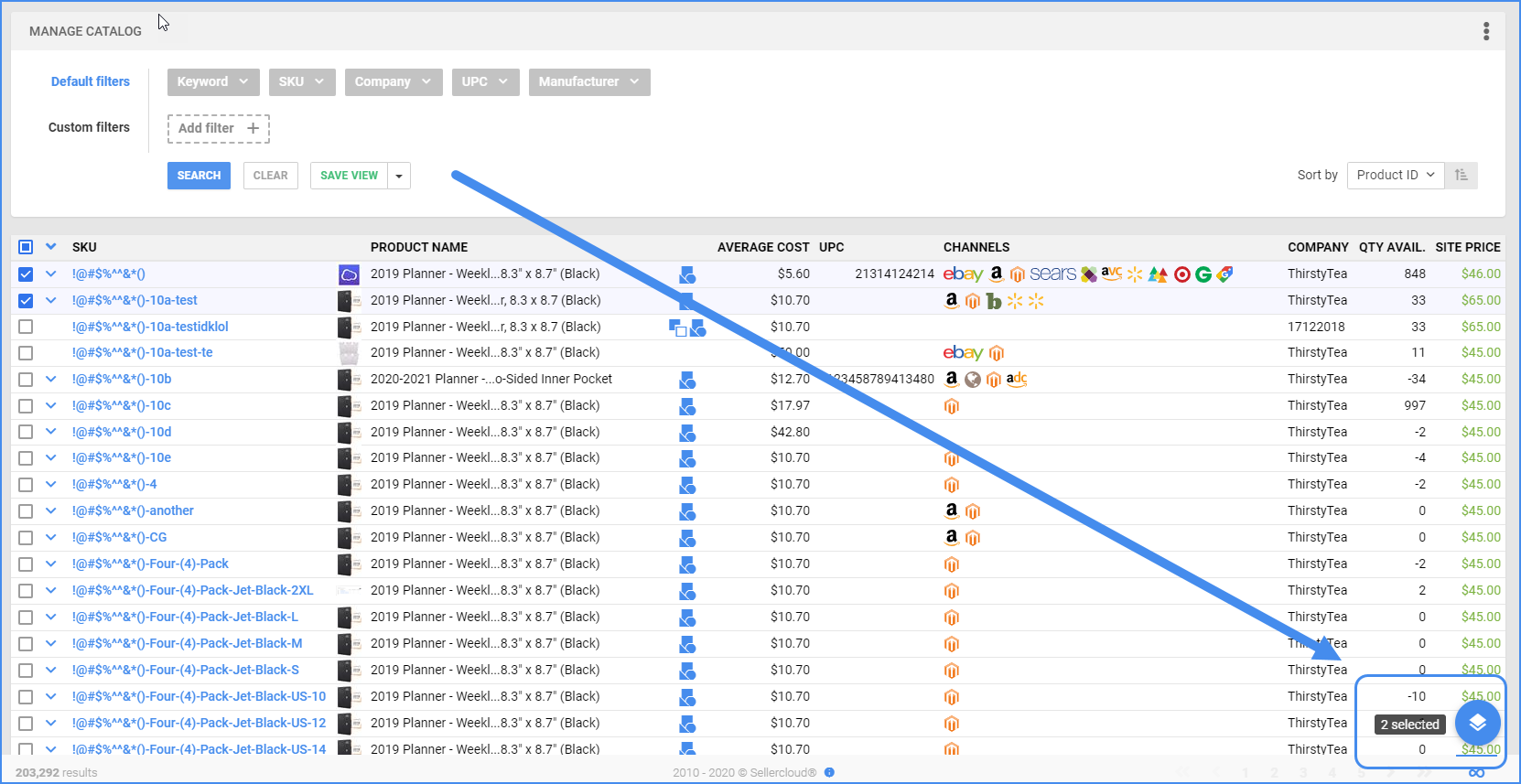 Clicking this icon opens a drop down menu with various options. You can use the search engine to find a desired function or scroll. To use a function, simply click it.
The action icon also gives you the ability to perform actions in bulk by selecting multiple products at once, and then clicking the action icon.