Check out this short tour on user permissions!
---
Introducing permissions
There are three components to a user's permissions in Delta:
Role type – The general level of access to Sellercloud
Permission type – This specifies the tasks – View, Edit, Create, Delete, or Advanced – that he/she is permitted to perform on a given entity:

Entity – A data structure, and its related functionality, that is managed in Sellercloud. Examples of entities include:

Orders
FBA inbound shipments
Warehouse inventory transfers
Product types
Each entity has 5 potential permission types.

---
Introducing the role types
Sellercloud offers two types of user roles; each user can have only one role:
ROLE TYPE
ACCESS LEVEL
DESCRIPTION
Client Admin
User has access to everything within his/her own client.
The nature of this role is to have access to everything; therefore, the permissions of this role can never be edited since they are locked by design.

This role sets the permissions for users who have the employee role.

Employee
User access is limited to the permissions that the Client Admin has granted to him/her.
Permissions are designed for this role.

The Client Admin can create security templates that can be used to apply the same permissions to multiple employees.
---
Introducing the permission types
The workflow to set employee permission types comprises the following overall steps (only available to the Client Admin):
Choose the entities that the user can access.
Each entity has 5 potential permissions described in the table below: View, Edit, Create, Delete, and Advanced Permissions.
Certain entities do not have all 5 permission types: For example, warehouses cannot be deleted from Sellercloud's front end; therefore, warehouses have no Delete function.
In general, View, Edit, and Create include all actions that aren't otherwise specified in the Advanced permissions. That is, the Advanced permissions lets you further restrict employees from performing specific, sensitive actions on a given entity.
PERMISSION TYPE
ACTION(S)
View
User can see entity-related data. This is the lowest level of permission.
Edit
User can make changes to an existing entity member (fields, statuses, etc.).
Create
User can create a member of the entity. For example, if a user has Create rights for orders, then he/she can create an order.
Delete
User can delete a member of an entity.
Advanced Permissions
These are specific, entity-related tools or actions that a Client Admin may want to restrict from certain employees.

Not all entities have Advanced Permissions.
Set the permissions for each of those entities.

For Advanced Permissions, you can choose which ones you want the employee to access.

Choose the companies for which the permissions apply. This is "All" by default because a Client Admin will not usually restrict an employee from a given company.
---
Adding new permissions to an employee
Prerequisite: Only the Client Admin from your account can perform this function.
If an employee needs permissions for areas that he/she currently does not have, proceed as follows:
There are two ways to add permissions; do either one based on the level of access to grant:
Click in the employee's Role dropdown > select Client Admin (has permissions to the entire system) > Save.

Leave the Employee role as-is and continue below:
Select the entities that the employee can access > Save.
Apply these permissions by company: On the For Company panel, select the company/companies to which he/she should have access. For example, you can restrict access to only those entities from a specific company.

Click Save.
The Client Admin can define only one set of entity permissions per entity per user, which he can then apply to whichever companies he chooses for that user.A user cannot have two different sets of entity permissions for two different companies to which he/she has access.
---
Creating security templates
The Client Admin role can create security templates that define a complete set of permissions. These can then be easily applied to multiple employees.
There are two ways to make a new template: Create an all-new one, or save an employee's permissions as a new template.
Create a new template
Manage Security Templates page > click the green + icon at bottom right to name the template.
Optional: Click the Copy From dropdown to choose an existing template's permissions
Click Next > select the entities > click Create.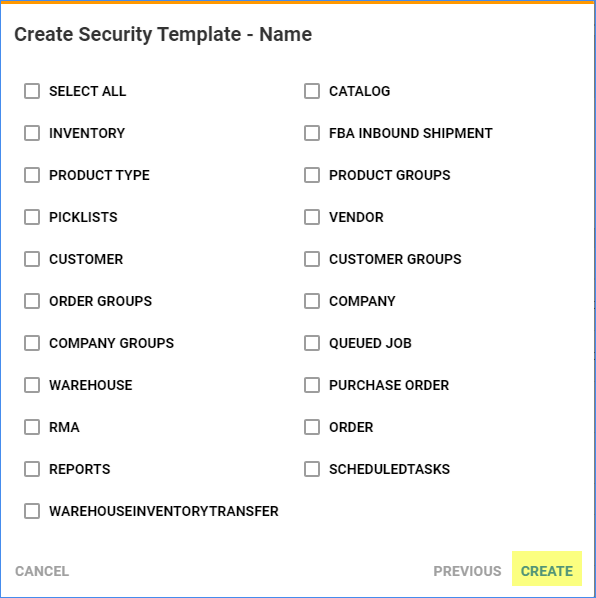 Save an employee's permissions as a template
You can make a new security template based on the permissions from an employee, and then apply that template to other employees.
From the Manage Employees page > open the Employee Details page.
Update the employee's permissions > click Save > save the current employee's permissions as a template.