Using eBay shipping method mapping
Shipping options that a customer selects when placing an order on eBay will download into Sellercloud. These shipping selections can be mapped to a specific shipping method. For example, an eBay shipping selection "Standard" can be mapped to UPS Ground. When the order downloads into Sellercloud, the system will replace the "Standard" with UPS Ground.
Furthermore, shipping methods can be marked as Rush. Marking an order as Rush will give the shipping method on the order precedence over a shipping method set on the product as to the method shown in ShipBridge. For example, if on the product level (Product Toolbox > Shipping Preferences) the default method is set to UPS Ground, that will normally take precedence over the selection on the order, and will show as the shipping method in ShipBridge. However if you mark UPS Next Day Air as Rush, any eBay shipping selection mapped to UPS Next Day Air will download into ShipBridge with Next Day Air as the shipping method selection.
Shipping methods can be mapped under eBay Setting > Shipping Method Mapping.
Contact Sellercloud Support to add additional eBay shipping services.
The eBay Site dropdown will only show the option for US shipments. This is because eBay uses this mapping for all sites, including eBay Motors.
---
Rush services
Shipping methods can be set as Rush under eBay Settings > Rush Services. More info on the Rush services can be found here.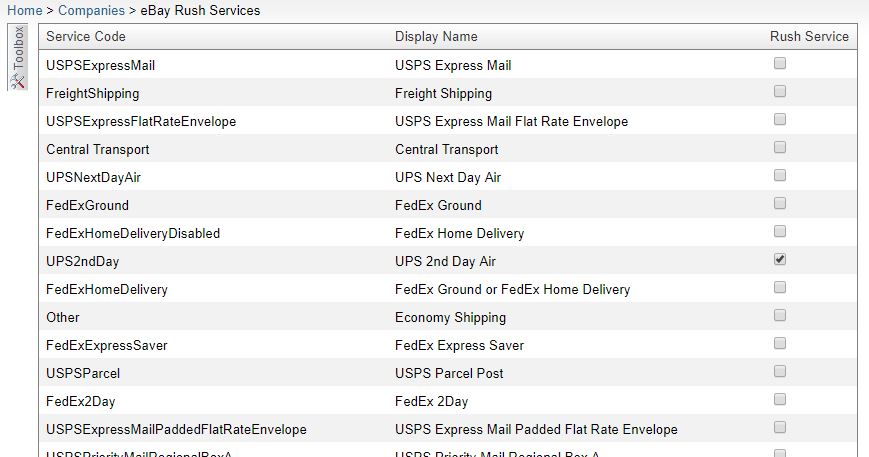 ---