[accordions id='8619′]
Check out this short tutorial showing the many easy ways to export product info from Sellercloud's Delta interface!
Watch this video on exporting product information in our original interface.
Understanding exporting product information
As your business and inventory grow, manually recording product information can be tedious. In Sellercloud, our Export Product Information function makes recording product information fast and efficient. This is all done from your Manage Catalog page where you can choose one or multiple products to export. Product information that is exported to a file can be edited and imported again using a Bulk Product Update from Import Product Info. Export formats include Excel, CSV, and Tab Delimited.
Accessing exports
Click Catalog > Manage Catalog.
Select your products > action menu.
Select your export > Export.
Your Export Product Information job can be accessed via a notification in the top right corner or Queued Jobs. Once completed, select Download Output File.
You can also generate a export file of missing channel attributes. Read more about that
here
.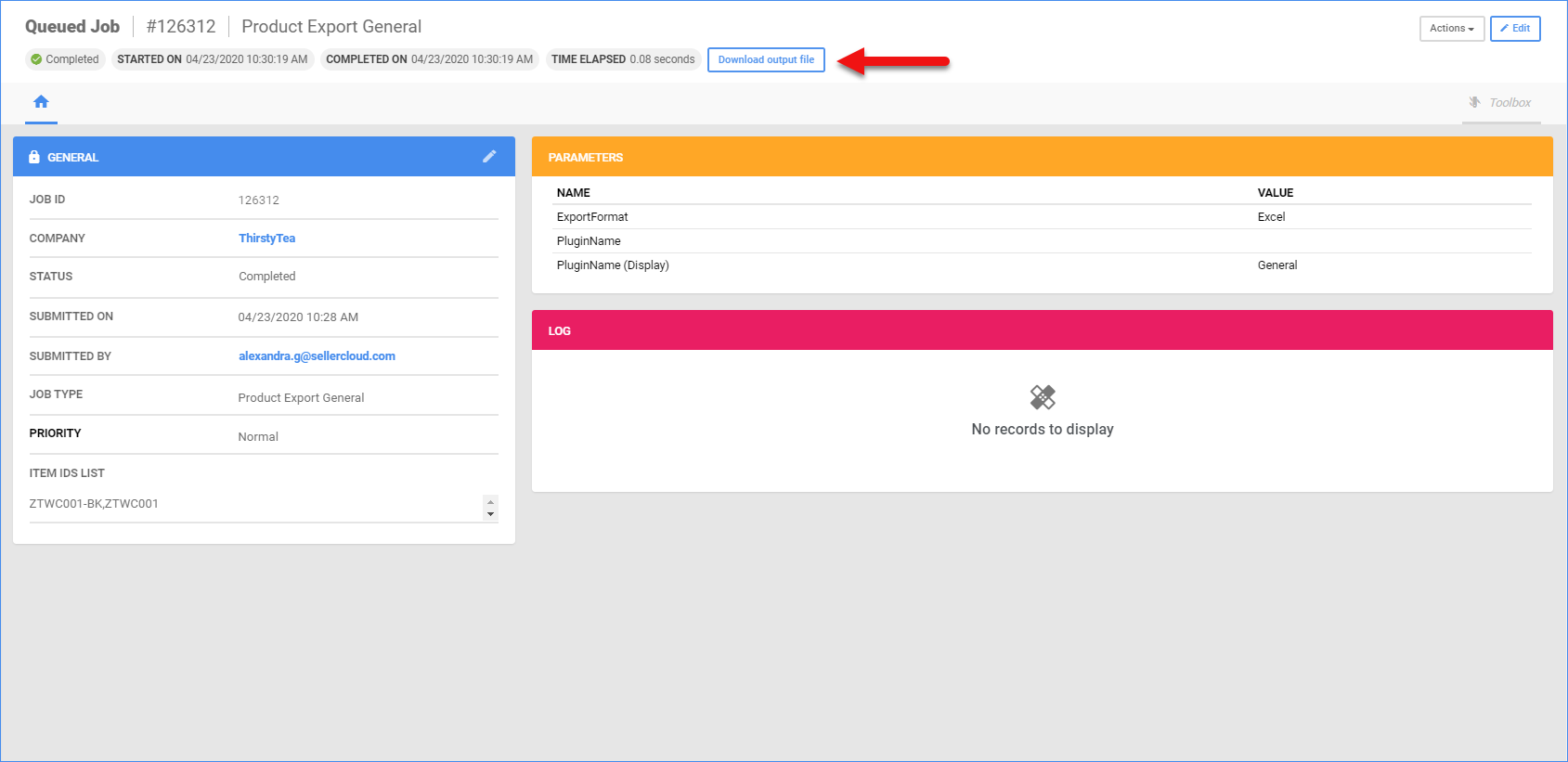 Standard export
Sellercloud offers multiple options for exporting product information. For a standard export, you have numerous selections for the in information you want exported. You can choose to export product images, groups, or product relationships such as kits, aliases, shadows, and matrices.
When exporting general information, you can choose from a PDF or Excel file. This type of standard export will record product information including:
Product ID
UPC
ManufacturerSKU
ProductName
Link
SiteCost
SitePrice
Quantity (Qty)
There is a one-to-many relationship between a product and these relationships, so they can't be included in the regular product export. Be sure to select the parent of the relationship when exporting. With Matrixes, each each matrix comes out on a separate file.

Custom export
Specific product level information can be exported using the Custom Export action. Custom Export columns and their definitions are located here.
From here, you can fully customize your exported information. By hovering over the available columns, a plus will appear. This moves the column over to Selected Columns. Or, drag and drop.

As pictured above, you have many other customization options. You can load an existing template, select the file format, or even choose how your columns are sorted.
If your export needs additional formatting, contact Sellercloud Support to create an export product plug-in that will generate a file with the required headers and formatting. The plug-in will display in the drop-down on the Export Products page. Select the appropriate plug-in and click Continue.
To create mappings with importing sample files use the Export Product Mapping Tool. Read about that here.