[accordions id='7912′]
---
FBA product labels are 3-inch by 1-inch labels that are affixed onto each unit to identify the item to FBA.
Generating labels from Sellercloud will let you print a strip of labels through a thermal printer, and includes other features to ensure that all products in your shipment will be labeled correctly (Show me):
Labels are automatically grouped by product on the label strip
Includes the FNSKU for when Amazon disallows using the items' original barcode
Includes the internal Sellercloud SKUs so your shipping department can easily recognize items
Shows product name, condition, and scannable barcode
Can also have expiration dates added for perishables
Sellercloud will generate labels as downloadable PDF files in the required format with the exact quantity of labels for the number of units.
You can select the Amazon label format on a product's Amazon Properties when the product is set to Fulfilled by: Amazon. Check out the different label types: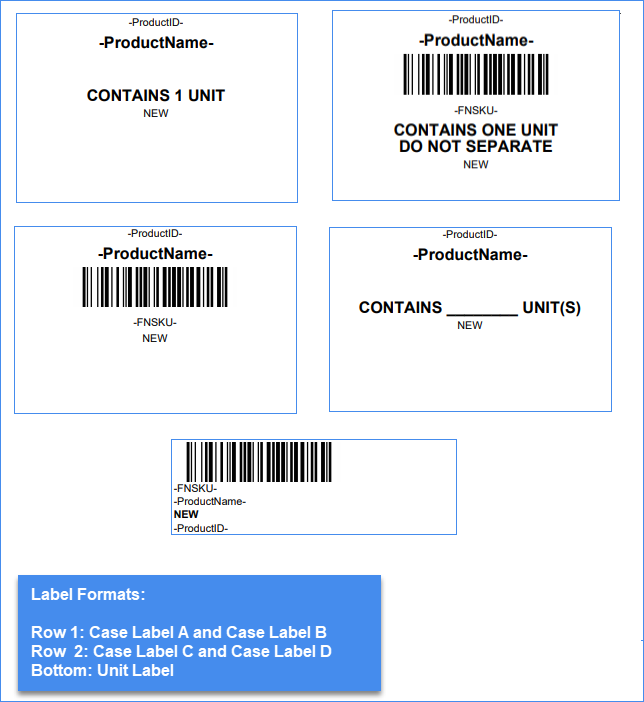 You can use plugins to print custom labels. For example, if you want to print Avery-style sheets, you can use the 30 Per Page FBA Label plugin. (If this plugin is not in the wizard's Format list on the Print Product Labels window, contact Sellercloud Support to place it on your server.)
If you generate FBA labels from your Seller Central account instead of Sellercloud, all products in an FBA inbound shipment will print onto an Avery-style label sheet. However, since the labels are not separated by product, some products may get labelled incorrectly by accident.
---
Printing FBA product labels
There are several locations where you can print FBA product labels:
From the FBA inbound shipment wizard:
From an FBA inbound shipment:

Amazon Shipments section – Click Edit > Print product labels prints labels for the selected items (Show me)
Adding expiration dates to product labels
If you want perishable items to show expiration dates on their printed labels, add dates in the Item Quantities section of the FBA inbound shipment wizard's Boxes tab.
In the FBA inbound shipment > click the wizard's Boxes tab.
In the Item Quantities section, select the shipment > click the Expiration Date's calendar > choose date > Save. (Show me).