You can use Scan and Ship in three ways:
Select orders from the grid and press Scan and Ship 
Click Scan and Ship to scan or enter an order number
Only use Scan and Ship (disable the grid)
You can also automate the printing of shipping and confirmation labels.
About scanning kits:
If an item is a kit, by default you will have to scan the kit parent SKU. However, you can have kit component(s) appear for scanning if you enable the setting Require subcomponent scan in Scan and Ship on the kit parent's Kit Properties page.
Enabling the client setting Require Kit SubComponents Scan by Default will automatically enable the Require subcomponent scan in Scan and Ship setting of any new items created after enabling the Client Setting. (This will not auto-enable existing items.)
You can easily bulk-update existing kit parent products using the IsSubComponentScanRequired column (as shown here).
---
Selecting orders on the grid
Verify order items: Scan or manually enter the SKUs or UPCs of all items related to the current order.

When done, edit the destination address, if necessary, by clicking the Edit Address tab.
Review the left and bottom sides of the console to ensure that accessories and special instructions are included in the shipment.

Click the Print & Ship tab and verify shipping values. Select the packaging method and shipping services. Now you can print shipping labels and invoices.

To require signature confirmation, check the box and select from four types in the drop-down menu that will appear to the right.
---
Using the Scan and Ship button
Scan in an order number or SKU to display the items. Scanning a SKU lets you grab any item and scan the UPC and an order with that item will appear. This feature is particularly helpful for single-item orders.
Continue as above.
---
Using Scan and Ship mode (disable the grid)
Select Menu > Options.
Select the Scan and Ship tab.
Click Save to open the Scan and Ship window. This mode only lets you ship one order at a time.
The Scan and Ship tab (Menu > Options  > Scan and Ship) has a setting Use single-scan shipping. If enabled, this auto-generates a shipping label after a product is scanned in the Scan and Ship window. The product ship weight (and DIM) must be preset in the product in SellerCloud.
---
Scanning the same item with multiple quantities
If you have orders with large amounts of the same item, you can enable the convenient setting Allow scanning of multiple qty to scan the item only once and then enter the quantity.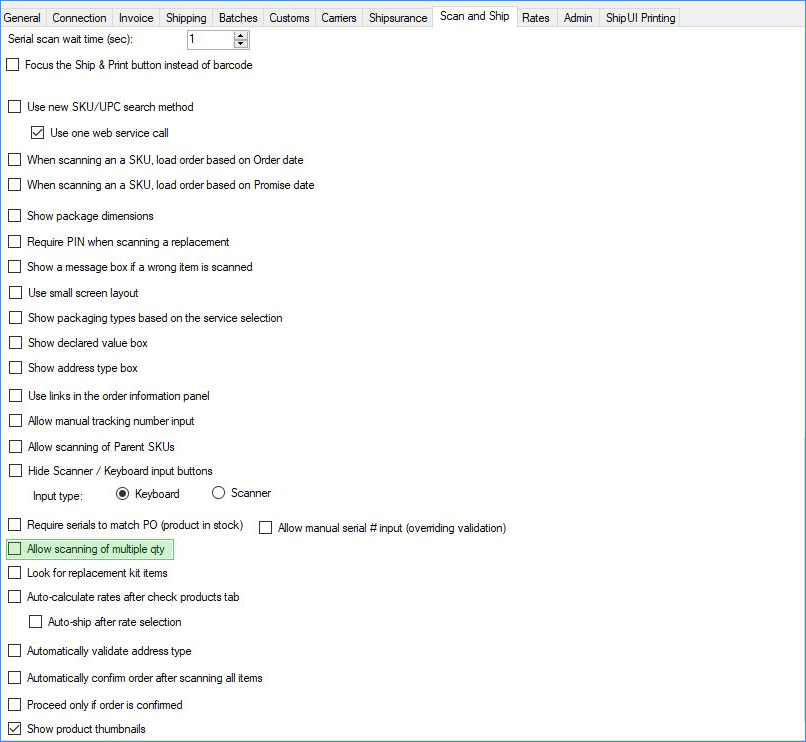 ---
Automating the printing of shipping and confirmation labels
To increase the speed and use less clicks when printing shipping or confirmation labels, select these settings on the Scan and Ship tab:
For printing shipping labels— Scan items and Ship Orders
For printing confirmation labels— Use Confirmation Code process to scan items. Also, select a printer for the confirmation labels
Skip product scan in Scan & Ship mode
Use single-scan shipping
Require Scan & Ship for multi-item orders
When scanning a SKU to load an order, mark the product as scanned
Focus the Ship & Print button instead of barcode