[accordions id='9519′]
Understanding the Manage Inventory page
Welcome to your Manage Inventory page. The Manage Inventory page is a snapshot of all the products you currently have in your inventory. While seemingly similar to the Manage Catalog page, Manage Inventory focuses on inventory functions versus product properties and characteristics.
The grid features each product in your inventory organized in any way you choose. Similar to other features in Sellercloud, you can create custom columns to organize your inventory in a way that best suits your business' needs. This way, the information you seek is always easily available.
---
Exploring the Manage Inventory page
Let's explore some of the functions and features you will find in the Manage Inventory Page. To access, click Inventory > Manage Inventory.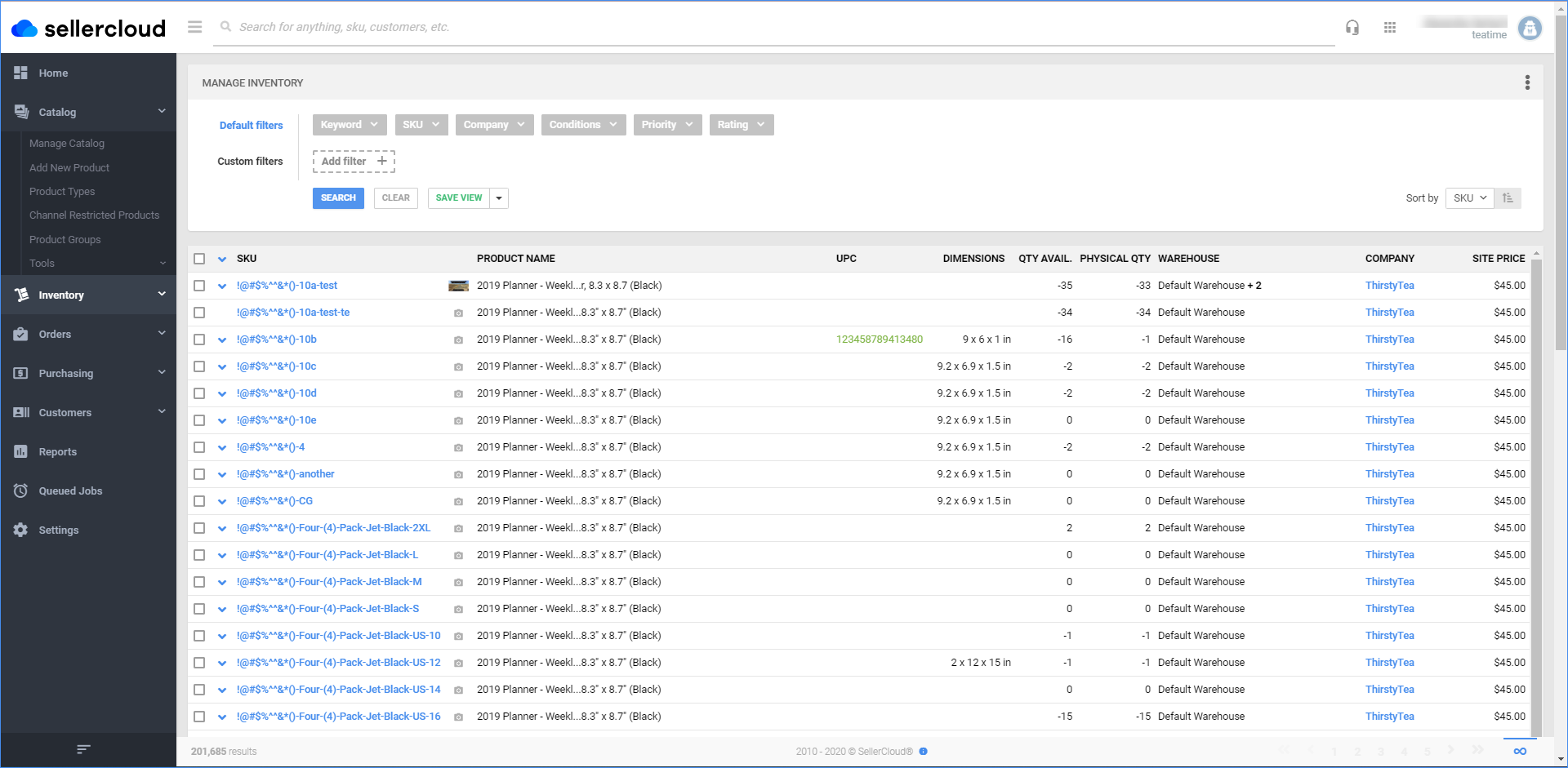 You'll see all your inventory listed in the grid. By clicking on the SKU, you can manually edit the inventory or related inventory functions of that product from the product's details page. Clicking the blue arrow reveals a second level of columns. These are also able to be customized depending on your needs.

---
Searching for inventory
You can fully customize how you search for inventory in your Manage Inventory page. You can create filters, columns, or choose how your information is sorted from top to bottom. Select Sort By and a dropdown will reveal various options to select. You can also choose how this information is sorted from top to bottom.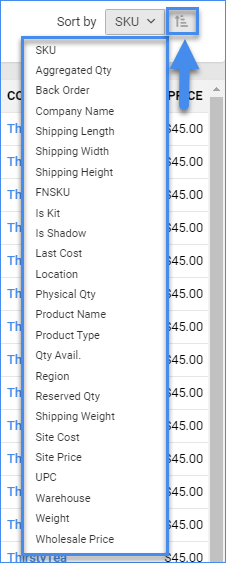 If you're looking for a specific inventory item, you can use filters to narrow down your search. There are both default and custom filters to assist you in your search. To use the filters, click on one to reveal a dropdown search. Enter the associated Keyword, SKU, Company, etc. > Search. The grid will reflect these filters so you can find what you're looking for.
These filters will be grey when not in use. Once you type in the dropdown and select your desired search, the box will turn yellow. After you've input your filters, clicking Search turns the boxes green to indicate they are in use.


If these filters don't produce the inventory item you're searching for, try using Custom Filters. Clicking Add Filter reveals a dropdown of filter options. You can scroll or search to find your desired filter.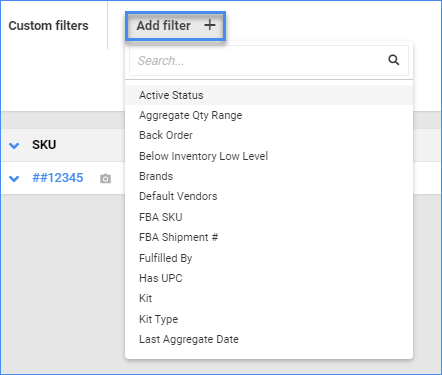 Clicking the filters adds them to your Custom Filters. Similar to the default filters, filters not in use will be grey, those with searches are yellow, and once you click Search they will be green. To delete any filters, click the trash icon.

Tip: To search by SKU list, use the SKU filter > Input and select multiple SKUs. If you have a spreadsheet with SKUs, you can copy and paste them into the SKU filter search engine.
If a product has an
alias
, you can enter that alias in the UPC field to search for the SKU with that alias.
---
Customizing columns
The Manage Inventory page now offers a new column filter for
EAN
(European Article Number)
and the option to choose
EAN
as a column for the results grid. An EAN parameter was also added to the Get All Inventory endpoint in the Rest API, so that users can filter by EAN when searching products via the API. .
Its easy to customize the columns in both Levels one and two of your Manage Inventory grid. Click the vertical ellipses > Customize Columns. You will see the option to control both columns for levels one and two. The trash icon deletes that column. To organize the order of the columns, simply drag and drop. To add a column click Add Column.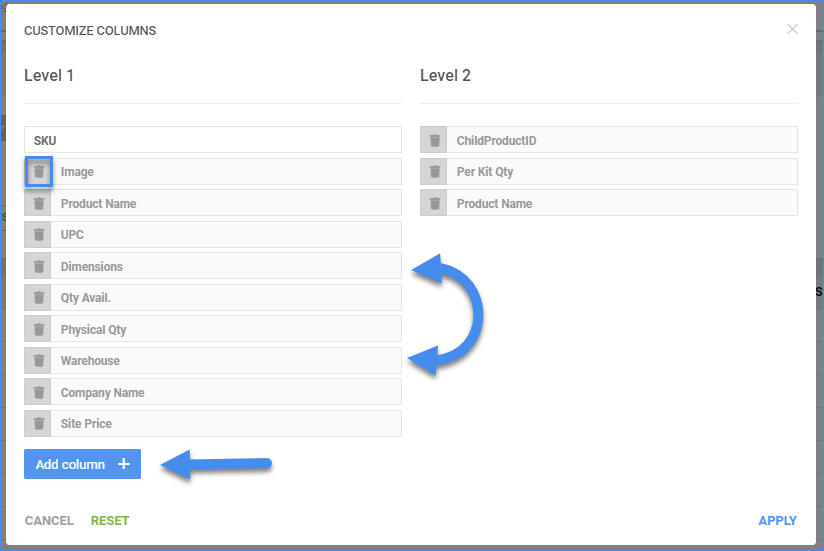 This reveals a drop down. Clicking the column adds it to your list. Once you've customized your columns, select Apply.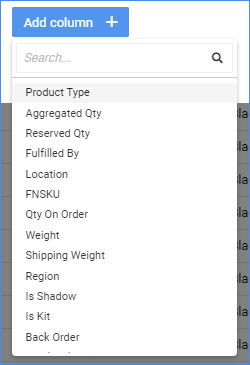 You can create multiple views for finding specific inventory with different custom columns. To do this, simply click Save View > Save view as > name it > Save. Next to the vertical ellipses will be a Saved Views dropdown. You can use this to switch between multiple saved views.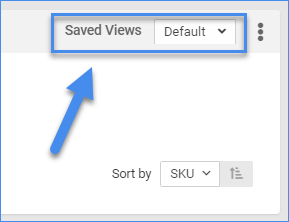 ---
Using the action icon
Selecting single or multiple inventory items reveals a blue action icon in the bottom right corner of the inventory grid. These functions are also available in each inventory items product details page. However, the action menu allows you to use these functions for multiple inventory items without needing to jump back and forth between them.
Clicking this icon opens a dropdown bar with various inventory function options. You can use the search engine to find a desired function or scroll. To use a function, simply click it.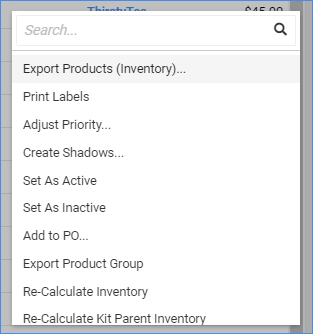 ---