ShipBridge lets you print invoices/labels on a half-page.
Batch shipping
 should not be used when printing half-page labels/packing slips.
To enable this feature:
Click Menu > Options > Invoice tab.
Enable Print API label/invoice on the half page to show these additional settings:
Select the printer and print a test page. The printer set here must match the printer set up in Label printer config.
Choose to print the invoice horizontally.
You can select your preferred template and adjust the positioning. You can request additional templates for your requirements; contact SellerCloud Support for details.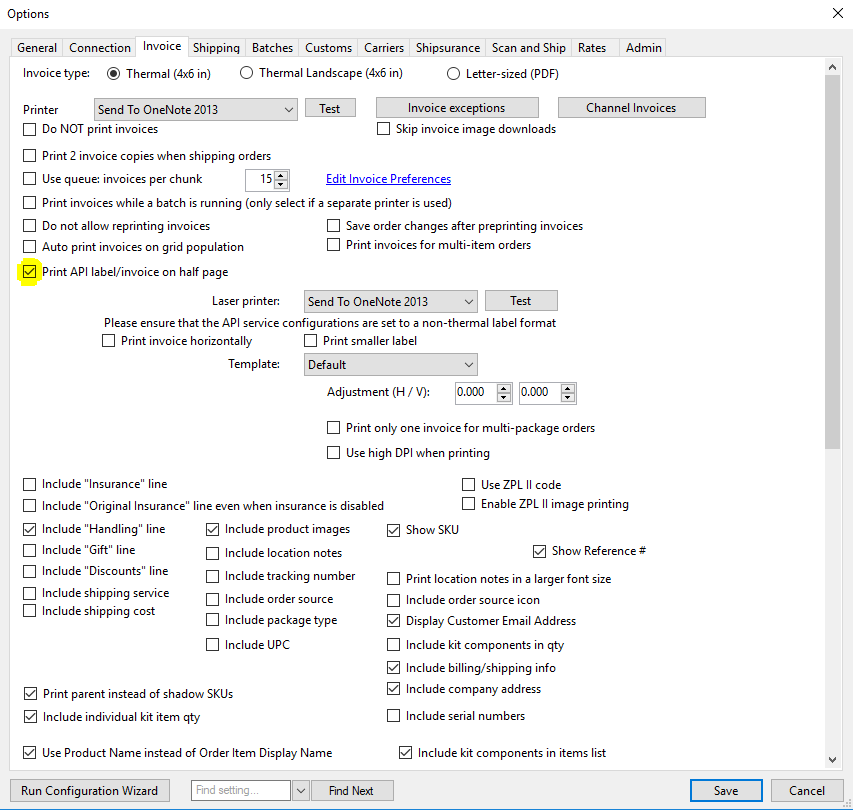 Invoice templates
Different templates can be used for half-page invoices:
Default – Prints the default template.
FRE – Adds more information under the default template, including the total invoice sum, tax, and shipping fee. Show me.
LB – Adds more information to the default template, including returns' information. Show me.
NJ – Similar to the default template, but a smaller size. Show me.
OM – This format requires a plugin from SellerCloud. It adds the barcode UPC on top of the label, along with printing the default invoice. Show me.
Example schematic of the template BurrisComputerFormsLS 6x4BL can be found here.
If the invoice is not positioned correctly, you can make horizontal and vertical adjustments.