Selling on Home Depot
Home Depot is the largest home improvement supply store in the U.S., with stores across 50 states, plus Canada and Mexico.
Home Depot offers suppliers a great opportunity to sell home and garden improvement products in their dropship program.
Sellercloud is integrated with CommerceHub, the third-party platform used by Home Depot for EDI document transmission. Sellercloud's EDI integration with Home Depot synchronizes inventory across all sales channels and provides a highly efficient order fulfillment process.
---
Integrating through CommerceHub
Home Depot is an EDI-based integration that requires documents to be transferred through CommerceHub, a third-party platform. However, your account at CommerceHub can be integrated with Sellercloud, which allows you to manage your inventory and orders from your Sellercloud portal.
There are 2 ways to integrate with Home Depot:
Through SFTP obtained from CommerceHub
Through VAN obtained from Sellercloud
After you obtain your test credentials, a testing process will confirm that all documents being sent are correct. Note that testing for cancellations cannot be done through Sellercloud and must be done directly on order stream (see the related documentation in this topic).
To proceed:
In the Company > Toolbox > Home Depot Settings > General Settings.
Select the Home Depot Enabled setting.
Complete the Home Depot credentials and settings:

Customer ISA Qualifier— Use the value ZZ
Customer ISA ID—  Usually is the client's phone number
HomeDepot ISA Qualifier, HomeDepot ISA ID, and HomeDepot Seller ID— All three are provided by Home Depot
Remit ID— Provided by CommerceHub
Supplier/Warehouse ID— Serves the same purpose as the Remit ID
HomeDepot Shipping Reference Number— This reference number is provided by CommerceHub for use by ShipBridgeNote: See these instructions to set co-op fees here for dropship.

Either enter the FTP credentials provided by Commerce Hub or the VAN credentials obtained from Sellercloud:

You must also map your warehouse(s) in Sellercloud for Home Depot:
Go to Settings > Company > Toolbox > Channel Warehouse Mapping to use the Channel Warehouse Mapping tool.
Choose Home Depot from the Select Channel dropdown field. The Local Warehouse column shows all warehouses in Sellercloud.
Select the warehouses for Home Depot.
Save.
---
Related documentation
See these related documents from Home Depot:
Testing is required before going live with Home Depot!
 During this process, you can direct any questions you have to our Support team by 
email or ticket
 or enroll in 
Premium Support
 with a dedicated representative to walk you through the entire process.
---
Understanding Home Depot properties
To include products in the inventory feed, they must be HomeDepot Enabled and have the UPC set on the Product Summary page.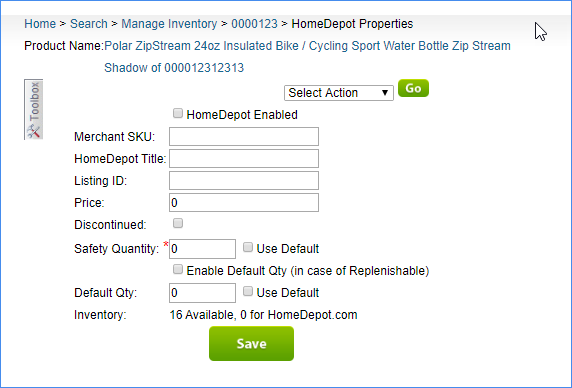 Home Depot Enabled— Only enabled products will have the aggregate quantity pushed to the channel.
Merchant SKU— Enter the merchant SKU here. Note! If the SKU entered in Home Depot Merchant SKU field does not match your SKU in Home Depot, the item will not be updated and another product will be created in Home Depot with only a SKU and Product Name.
HomeDepot Title— Specific title for the Home Depot listing. If blank, we will use the Product Name.
Listing ID— Links to the listing on Home Depot.
Price— Specific price for this channel.
Discontinued—
Safety Quantity— Can be set on the product, or click the Use Default box to use the default setting set on the company settings for Home Depot.
Enable Default Qty (in case of Replenishable)— Default Quantity only applies to Replenishable products. For these products, the Default Quantity is the number that will always be sent to the channel in inventory updates regardless of the actual available inventory.
Default Qty— Can be set on the product or click the Use Default box to use the default setting set on the company settings for Home Depot. Only applies to Replenishable products.
Inventory— Shows the inventory available for this channel. This number will be sent in the feed.
---
Understanding backorders
Home Depot backorders are handled in a few different ways by Sellercloud:
If the OnOrder quantity of the product is > 0, and the expected delivery date is set to a date in the future, then Sellercloud will send the quantity on the order and the set expected delivery date automatically
If there is an OnOrder quantity, but no expected delivery date set, Sellercloud will send both fields. However, the expected delivery date will be sent as one month in advance
If the OnOrder has no quantity and no expected delivery date, Sellercloud will send the quantity as one and the expected delivery date as 1 month in advance
---