If you do not yet have Worldship installed on your computer, follow steps 1 through 4.  Otherwise, skip to step #4.
Please Note: UPS World Ship should be configured with the help of your UPS rep. After it's properly set up, SellerCloud Support can then help you integrate with ShipBridge
Download WorldShip from the UPS site, at http://www.ups.com/content/us/en/resources/techsupport/worldship/downloads.html or http://wsmedia.ups.com.edgesuite.net/production/WS_12_0_12_0_ENU.exe
Install it as windows Administrator.
Print a test label by going to 'Tools'->'System Preferences Editor'->'Printing Setup'. Make sure that you are using "Generic Thermal Printer" for your printing preferences in Worldship, with a 4X6 label print area.
Make sure your UPS account is setup for Daily Pickup (web enabled).
Open ShipBridge.
Go back to WorldShip.
On the top menu bar in Worldship, go to Import/Export Data > XML Auto Import and click START. You may be alerted regarding your print stock. Ignore it and just continue, and then press STOP several seconds later.
Close ShipBridge and UPS WorldShip.
Open ShipBridge, and go to Menu > Options > UPS tab. Paste .exe directory if necessary.
Print a test label from the same tab. Worldship should open and print the label.
Done!
Using Consignee/DocTab label As Invoice or Packing Slip
SellerCloud ShipBridge offers the ability to use a consignee label from UPS Worldship as an invoice/packing slip. This is done by populating fields on the consignee label form with order information available in the SellerCloud system.
Due to limitations with the consignee labels such as character limits and formatting rules we only recommend this for clients who typically ship Fewer then 4 items per order.
The benefit of using the consignee label as an invoice/packing slip is primarily the print speed. Because Worldship prints the consignee label simultaneously with the label this method is idea for shippers who are pressed for time and moving a high volume of orders in a short period of time.
To set this up you will first need to open UPS Worldship and select the "Custom Label Editor" option from the "Tools" menu:
On the next page you will create a custom label template. Depending on the label type that you wish to print to you can specify either DocTab or Consignee label when naming the new template: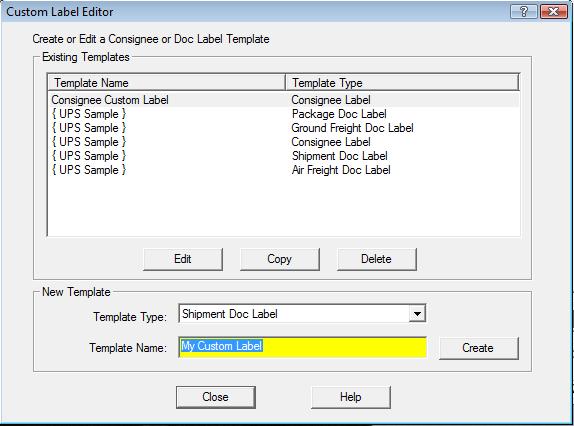 Now you will be presented with a default template that you can change to meet your needs. Typically users remove most of the Ship From address aside for the company name, and parts of the Ship To address and then add the necessary number of required "reference fields"(reference 1-5) and "description of goods" fields to suit the clients needs.
As seen above the template setup even gives the option to insert a monochrome image like a company logo into the label and the ability to change the fonts for different varying fields.
The newly created custom labels now need to be assigned to the Shipper Profile in Worldship.
Once the shipper profile is saved with the desired additional label formatting the profile can be assigned to the Shipper as seen below.
Now once the template is set up in Worldship you will save it and then open your ShipBridge installation. From the main ShipBridge window you will go to Menu > Options.
Once in the options window you will select the UPS tab and click on the button titled "Consignee Label":
The Consignee Label settings allow you to map values from the orders waiting to be shipped in ShipBridge to the selected Reference Fields in your custom Worldship label templates.