Creating vendor accounts in SellerCloud will enable you to create purchase orders, dropship orders, and apply vendor promotions and discounts to products.
You can add (or edit) a single vendor or add them in bulk.
Settings > Company Settings > Toolbox > Vendors. Vendors can be available across all companies. Read more here.
Click Add New Vendor or click Edit to edit existing vendor
Enter vendor's general and contact information. You can select a default company to associate with order from that vendor.
You can use the QuickBooks Vendor Name field if you need to map a vendor to a vendor with a different name in QuickBooks. For example, if you have to separate a vendor into two vendors in SellerCloud, one for dropship and one for wholesale, you can map them to a single vendor in QuickBooks. QuickBridge will use this field when exporting to QuickBooks.
If applicable, set a small order amount and fee. As shown in the image below, a fee of $4 will be added to a purchase order total when single PO from this vendor subtotals to 50$ or less. The small order fee will be added as a line item on the PO total.
Open the Toolbox to view Products and Purchase Orders associated with the vendor.
Configure PO Email Templates and Dropship Preferences for the vendor.
Configure Vendor Promotions and Multi Discounts.
View outgoing email to vendor.
To import vendors in bulk:
Click Import Vendors List.
Download the template and enter the vendor's general and contact information into tab delimited columns.
Save the file.
Choose File and click Import Vendors List.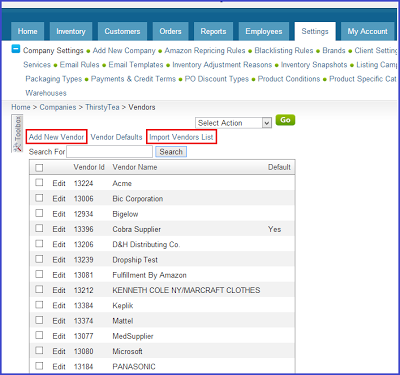 See also these topics: